We are interested in the adsorption/desorption of various molecules on polymer surfaces. For example, we are investigating how to encourage the absorption of proteins on polymer surfaces for cell culture, and studying how to provent protein absorption on polymer surfaces for anti-fouling applications.

Ref:
1. J.-H. Zhang, Z.-W. Huang, D. Liu*. Appl. Surf. Sci. 426, 796 (2017)
2. D. Liu*, J. Guo, J.-H. Zhang. J. Mater. Chem. B 4, 6134 (2016)
3. D. Liu, C. A. Che Abdullah, R. P. Sear, J. L. Keddie. Soft Matter 6, 5408 (2010)
4. D. Liu, T. Wang, J. L. Keddie. Langmuir 25, 4526 (2009)
Polymers staying at the interface of various blends and composites are investigated to examine how the nature of these polymers, i.e. type, density, length, and interaction with matrix, will affect the nanoscale properties and ultimately the macroscale properties.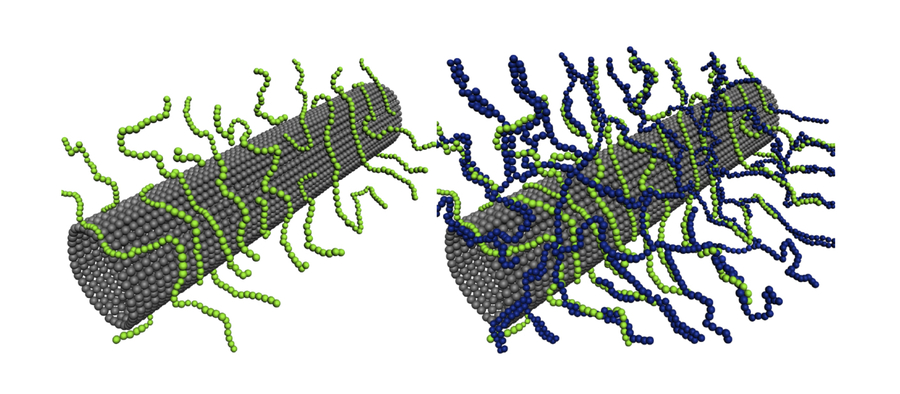 (Example: Macromolecules at the interface of polymer matrix/carbon nanotube)
Ref:
1. T. Wang, A. B. Dalton, J. L. Keddie. Macromolecules 41, 7656 (2008)